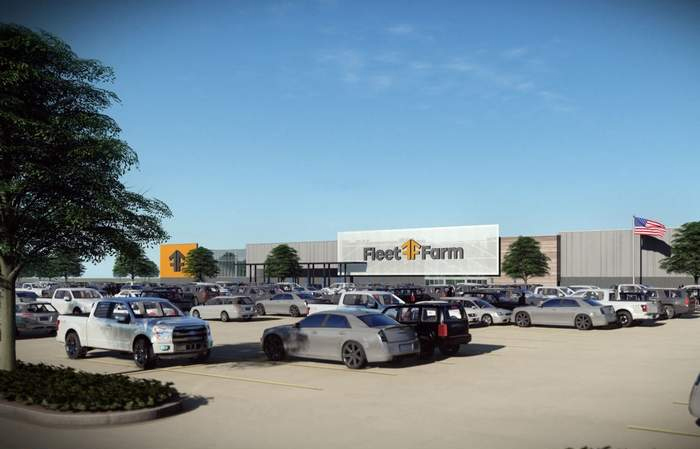 January 29, 2019
Cedar Rapids Iowa – Fleet Farm announced that it will be opening its' first Cedar Rapids location at Edgewood Town Centre (ETC), a new development at the corner of Edgewood Road and Highway 100 in the northeast quadrant of Cedar Rapids.  The nearly 200,000 SF store is anticipated to open in the fall of 2019.  Fleet Farm, based in Appleton, Wisconsin, announced the Cedar Rapids location along with a new store in Cedar Falls as part of a Midwest expansion plan.
"As Fleet Farm continues to expand across the Midwest, we're pleased with our customers' response to our unique combination of products and services," Tom Carrico, Fleet Farm's vice president of real estate and construction said in a news release on Tuesday. "We are proud to be expanding our store presence in Iowa, creating jobs and being part of a compelling retail growth story."
Construction has begun at ETC and significant changes to the site are already evident. Compass Commercial Services, part of Ahmann Companies, began sitework in late December so Fleet Farm can begin building as soon as weather permits. Additional sites at ETC are available for purchase or as a build-to-suit turnkey project through the Ahmann Companies team.
Sites are listed with Q4 Real Estate and can be found at www.q4realestate.com.
About Ahmann Companies
Ahmann Companies is comprised of three companies within the commercial development industry. Fusion Architects, Compass Commercial Services and Q4 Real Estate work together to provide turnkey services for a true design-build option in the Cedar Rapids/Iowa City corridor. Ahmann Design is also part of the Ahmann Companies family and provides residential design services for  local, regional and national markets.
For more information on Edgewood Town Center (ETC), contact:
Craig Byers, Agent
Q4 Real Estate
1950 Boyson Road
Hiawatha, Iowa 52233
319-200-8129
Jason Rogers, Broker Associate
Q4 Real Estate
1950 Boyson Road
Hiawatha, Iowa 52233
319-361-3958