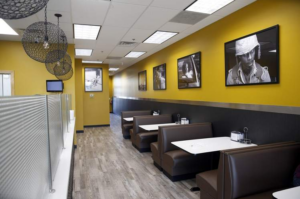 The challenges of the pandemic did not stop Jerome and Briana Smallwood from expanding their restaurant business. The Smallwoods opened Vivian's Express Grill in The Fountains development in February 2021, in the heavily traveled intersection of Edgewood Road, Blairs Ferry Road and Highway 100 on the northeast side of Cedar Rapids.
The express grill offers quick service favorites off the menu of the couple's restaurant Vivian's Soul Food on the southwest side. A highlight of featured made-to-order food dishes include burgers, jerk chicken and shrimp, Phillys with buns sourced from Philadelphia, po'boys, wraps, and salads.
The Smallwood's opened their first location Vivian's Soul Food in 2017. Due to their success in the community, they were able to move to a bigger location at 2925 Williams Parkway SW. The couple has plans to open a third location by the end of 2021, and eventually want to franchise using the Vivian's Express Grill format.
Vivian's Express Grill
Location: 5300 Fountains Drive NE Suite 104, Cedar Rapids, IA.
Hours:      11:00 a.m. to 8:00 p.m. Monday to Saturday.
The Fountains is a mixed-use work/play development on 19.3 acres just off the new highway 100 extension. For more information about this 2nd generation commercial unit, or other commercial real estate property for sale or lease in the Cedar Rapids Metro area, contact one of our commercial real estate listing agents to help you find your next commercial real estate property today.